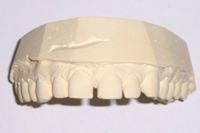 A beautiful smile can leave a lasting impression – but for those that do not have naturally "perfect" teeth, the lasting impression of a perfect smile is usually left on your wallet! During difficult financial times, investing in one's looks is sometimes seen as a positive – an attractive smile could be the difference between landing a job and getting looked over. For all its benefits, many people are still nervous about cosmetic dentistry. The idea that your teeth will be permanently changed can also be a difficult one to grasp.
According to New York City Cosmetic Dentist and Lumineer Specialist Dr. Michael Entin, "although many patients come to me very unhappy with their teeth, they often have a difficult time envisioning themselves with anything other than their current smile."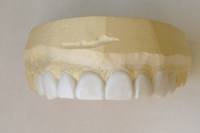 For those patients who cannot simply "use their imagination," Dr. Entin offers a temporary "Smile Design" with patients to give them a realistic, temporary version of their new and improved smile. Dr. Entin works with patients to understand their ideal smile by looking at their existing tooth structure and asking patients to bring in photos of models or celebrities with smiles they admire.

Dr. Entin creates an acrylic version of the new smile directly in the patient's mouth. This gives the patient a nearly exact view of what their new smile would look like. Patients can now determine whether to commit to the "Smile Makeover" based on their customized design.
This procedure is much better then any computer generated "virtual smile".